Commissions
Feel free to email me if you are interested in commissioning artwork.
---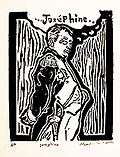 Click for larger version
Prints
Joséphine – (4" x 5") Linoleum cut – Limited edition of 40 prints – $35 each
Prints of some of my paintings are available upon request. Email me if you'd like a specific print, and I will make it for you.
I currently have a limited 100-print run of the painting of Nathan Altman. Nathan was a wonderful writer, teacher, and friend. He died young of cancer. I am donating 100% of the money collected through the sale of these prints. 50% of the money goes to LiveStrong, the Lance Armstrong Foundation. The other 50% goes to the Nathan Altman Creative Writing Scholarship that Nate's parents are establishing in conjunction with the Fayetteville Public Education Foundation. I'll make the donations quarterly in Nate's name. For more information about the Lance Armstrong Foundation, visit www.livestrong.com.
To order the signed and numbered print of Nathan Altman, please email me and I'll reserve one for you. The cost is $100. The painting is reproduced on high-quality, archival watercolor paper and measures 18 x 24 inches. Once you've ordered, please allow 2-3 weeks for delivery.
---